How to start things right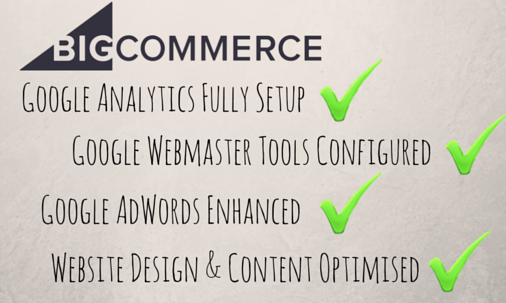 BigCommerce is a great eCommerce system, but it needs a few things set up and some eCommerce SEO tweaks to get it running on all cylinders.
I'd been fixing up BigCommerce sites for quite a while and realised I hadn't fully documented all the everyday things I did. So I decided to write it, not just for me but for everyone. And this article is that document.
[Table Of Contents]
Ideally, you should review your website against this checklist before going live so that you don't make a mistake that can cost you later. Tasks flagged as (Do This Now) are the most important ones for day one, while you can complete other tasks over time.
Let's get started.
Google Analytics 4 (Do This Now)
Google announced in March 2022 that Google Analytics 3 (Universal) would be going away in July 2023. And with it, all of your data that is inside Google Analytics Universal. You must set up Google Analytics 4 or another analytics tool now so you have some data to work off when GA3 data disappears.
This is where we make life easy for you. Our Tag Rocket app includes an easy to set up implementation of GA4, with all the enhanced eCommerce features and more. And we provide a guide to setting up GA4 and Tag Rocket.
Google Search Console (Do This Now)
The Google Search Console is an essential tool for SEO, as it tells you insider information on how Google is indexing your website. A few days after verification, you will see data related to crawling, indexing, sitemaps, linking, rich results, and core web vitals, including warnings and errors to help you keep your website running well.
We recommend verifying your store at the domain level as this covers all variants that your site may have existed. e.g.
domain.com
www.domain.com
https://domain.com
https://www.domain.com
To do that, go to the Google Search Console and log in via a Google Account. If you have not verified a store before, you will see the following options. If you have, select the current property in the top right and click on Add Property to see it:
Here you want to enter your site's domain in the domain section, then continue.
Copy the TXT record and keep this page handy for later.
Now log in to your BigCommerce admin as the owner and go to Server Settings->Email & DNS records. Then the Web Hosts tab. Here "add another", set the type to "TXT", enter your domain in the host, and the copied TXT record text in the value. And Save.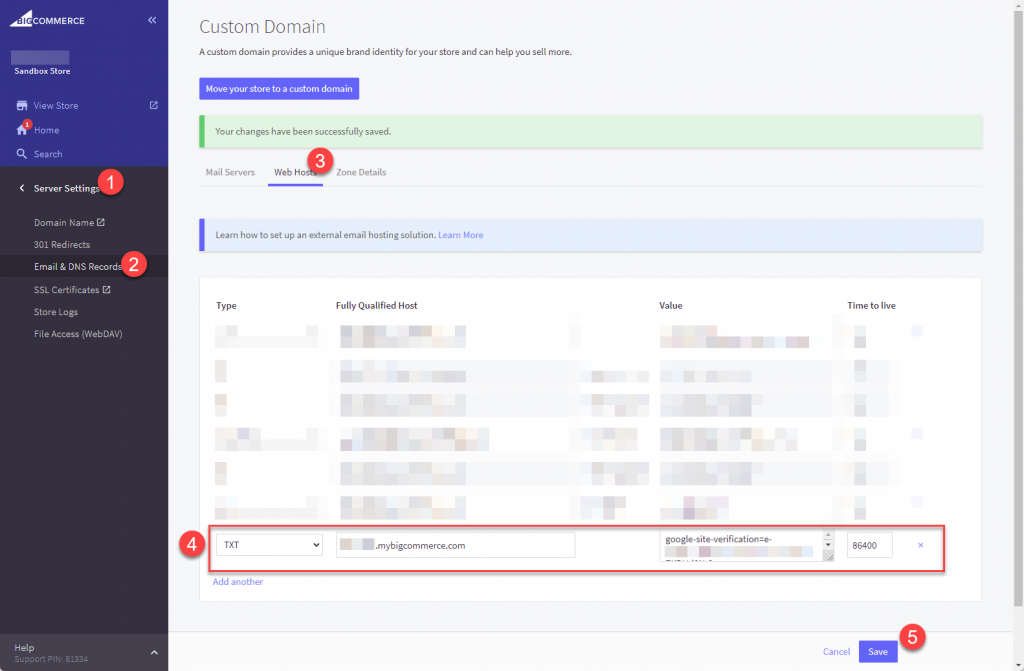 Go back to your Google Search Console page and click the verify button. If all is correct, it should verify successfully. Then you may need to wait a few days before it shows any data.
You can also link your Google Search Console to your Google Analytics 4 to add some extra reports in GA4. The new GA4 reports are hidden in Reports->Library (bottom of the sidebar). Find the Search Console collection and click on the little menu to publish the reports. You will then see them in the Reports sidebar.
Google Search Console – Target Region (Do This Now)
Google allocates a region to every site. This is the region your website is officially targeting, and therefore it may perform better there.
Go to Google Search Console->Legacy tools and reports->International Targeting->Country to see your options.
If you have a country-specific domain (like mine), you have no choices and will automatically target your own country.
Some domains (like .com ones) are country independent. For these, you want to make sure you set it to the country you most want to target. There is an unlisted option, but I don't know the consequences of using it!
Google Search Console – XML SiteMap
XML Sitemaps are machine-readable files that list all the pages on your website. Your Google Search Console lets you specify a sitemap for your site in Google Search Console->Sitemaps.
BigCommerce kindly creates one of these sitemaps for you. So all you need to do is enter https://yourdomain.com/xmlsitemap.php (replacing yourdomain.com with your store's URL) into the box and submit it.
Myth Busting: You don't need to keep re-submitting your sitemap as Google will periodically get the latest one on its own.
Sitemaps do not help you rank. However, they can help Google decide how to crawl the website.
Submitting also means you can see how well the pages in the sitemap have been crawled. For that, also check the Coverage reports.
Google Search Console – Fixing Broken Links (Do This Soon)
Now that you have your Google Search Console setup, you should check it regularly.
One valuable tip is to check Settings->Crawl stats->By response Not found (404) and see if you have any pages being crawled that don't exist. See if any of them are due to a moved or removed product/page.
If appropriate, you can create Redirects in BigCommerce (Setup & Tools->301 Redirect) to send people who visit those broken pages to a more appropriate page. e.g. a similar product or a relevant category.
Note: Missing page errors are not an issue in themselves. If a page truly does not exist, then leave it that way. You will not get penalised for having lots of them. All we want to do is clean up cases where an admin change caused a page to go missing.
Another scenario that causes many missing pages is when you switch to a new content management system. This can cause all your old product pages to move and your website to tank in rankings. In this case, it is essential that you set up redirects to help Google also move.
BigCommerce – Preferred Domain (Do This Now)
BigCommerce lets you choose if you want www in your URLs or not. Make that decision before you go live, and never change it. Changing it changes where all your pages in your store can be found and will cause disruption with search engines.
You may notice that this SEO admin section is enhanced with a Google preview and character/pixel count. You can get that for yourself by installing our free BigCommerce SEO Helper Chrome extension.
BigCommerce – URL Structure (Do This Now)
You can change the site's URL structure in Store Setup->Store Settings->URL Structure. However, I recommend sticking to the SEO Optimized (Short) options.
This is because the Category option can cause your product URLs to change if you re-categorise your products or change the Categories URL. We want to avoid changing URLs as it causes some or complete loss in established ranking for a page.
If you were using an alternate structure and your website has been live for some time, I recommend leaving it. The main point about this activity is that we do not unnecessarily want to change URLs. So changing all of them now to stop some future changes makes no sense.
BigCommerce – Robots.txt
This text, editable in the Store Setup->Store Settings->Website section, specifies which URLs you don't want bots (robots, crawlers) to crawl. Its primary use is to guide the bots into crawling valuable URLs and not waste time crawling useless ones. It does not technically mean they will be out of the search results, but as the bots can't see the Url's content, their ranking ability will be seriously diminished.
I like to add this one as it stops the bots trying to crawl the poorly coded add to cart buttons!
Disallow: /*action=add
And I remove this one if it's there. Unfortunately, this one accidentally blocks all paginated content like secondary pages of a category page.
Disallow: /*sort=
A more advanced tip is to block specific sort values, so only the default sort (featured in this case) links are crawled. Use with care and only if you always use the same default sort:
Disallow: /*sort=newest
Disallow: /*sort=bestselling
Disallow: /*sort=alphaasc
Disallow: /*sort=alphadesc
Disallow: /*sort=avgcustomerreview
Disallow: /*sort=priceasc
Disallow: /*sort=pricedesc
Disallow: /*sort=product_name
Disallow: /*sort=product_brand
You may also want to add your sitemap to the file, as this helps crawlers and bots find it. Place something like this at the end of the file and change the domain to yours.
Sitemap: https://yourdomain.com/xmlsitemap.php

BigCommerce – Rich Snippets
Rich Snippets are enhanced listings in the search results. Install our SEO Rich Snippets app to optimise your chances of getting those rich snippets.
BigCommerce – Original Content & Product Descriptions (Do This Soon)
Your content must be original to rank in Google. i.e. yours. With eCommerce sites, the typical issue is that they all copy the manufacturer's descriptions. If your content is not original, you have two problems:
Your pages will be in direct competition with all the other websites that use the same content. Google's duplicate filter ensures that only one of you will show up in any search result. What are the odds it will be you?
Too much copied content, and you may get hit by a quality based search algorithm. This will downgrade your website. Note that Google also looks for other issues like thin or spun content.
BigCommerce – SEO Titles & Meta Description (Do This Soon)
The Page Title and Meta Description values let you specify what text you would like to be used in the search results. They are your marketing copy for your pages. Writing good titles and descriptions can increase the chances people click on your listing and not someone else's.
Web Pages (Advanced Options), Categories (Search Engine Optimisation), Brands and Products (SEO->Search Engine Optimisation) contain these options (please ignore the Meta Keywords option as it has no use).
Our BigCommerce SEO Helper Chrome extension helps you fine-tune your text by adding a preview of how it may look in the Google search results.
I've written several articles and a tool that should help:
For some reason, you can only edit the description in Blog Posts!
BigCommerce – Image Alt & Title Text
Every image can have some text associated with it. The alt (alternate) text is designed for helping visually challenged people understand what the image represents, while the title text is displayed when you hover over the image. Google is known to analyse the alt text, so it can help an image or the page it's on rank.
The alt text should contain a concise and clear description of what the image is about. If the image is inside a link, it should explain what the link is for. If the image is not important (decorative), it should be blank.
Only use the title if you want the text to show when hovering over the image (tooltip). It should contain something that adds information about the image. e.g., the photo's location, who took it, who is in it.
For product images, you want to make sure you fill in the product images descriptions. These are used for both the alt and title. Unfortunately, there is no way to specify them separately, so enter the text for use as an alt.
There are several different HTML Editors in the BigCommerce admin. Each with different image editor options. The alt text may be set via appearance->image description or just image description or even title for blog posts.
BigCommerce – Have one Main Heading (H1) per page
The main heading of a page should describe the subject of the page. The main heading is coded by placing its text inside an H1 tag.
Some themes or theme configurations cause the store's brand name or even an image to be in an H1 tag, and other templates place what should be the main heading in an H2 tag.
You should review your theme to see if it uses the correct tags. A simple way is to pick a product page, view its source, and search for H1s. Does it have only one H1 that contains the product name?
If not, you should update your theme so that all page types use the correct H1 tags.