We answer many Structured Data & Rich Snippet questions for our customers. If your questions don't appear in the specific support pages or here on the general FAQ page, please contact us for assistance.
What are Automatic Updates?
We regularly provide updates to our app to implement bug fixes and extra features. Enabling "Automatic Updates" (recommended) will allow us to publish your scripts to the latest version without the need for you to do anything. If you would prefer to review what changes have been made first and/or choose an appropriate time to publish the changes then simply choose to manually republish.

When Will I Get Rich Snippets?
Here's how it works:
Make sure you have "Published" your changes in the SEO Rich Snippets App
Google will (eventually) crawl your changed pages.
Google decides whether to display Rich Snippets for your page
Having Structured Data is no guarantee you will receive Rich Snippets, see Google's Structured Data Guidelines for more info. To fast-track indexing, see our Product Indexing or Bulk Validation Help sections
How To Grant Access To Google Search Console And Why?
You can opt for us to have access to your Google Search Console. This can help us improve the quality of your structured data by:
Carrying out spot checks on your GSC structured data reports for quality assurance
Early identification & troubleshooting of any issues (eg review system changes)
If "Full" Access is given, we may sometimes take steps to speed up indexing of your site's pages to optimise your site's rich snippets
This is completely voluntary and any data gathered will be in strict adherence to our privacy policy. To grant access:
Navigate to User Settings in GSC
Ensuring the right property is selected, click "Add User"
Add "[email protected]"
Select either "Full" or "Restricted" Access (more details below)
Click "Add"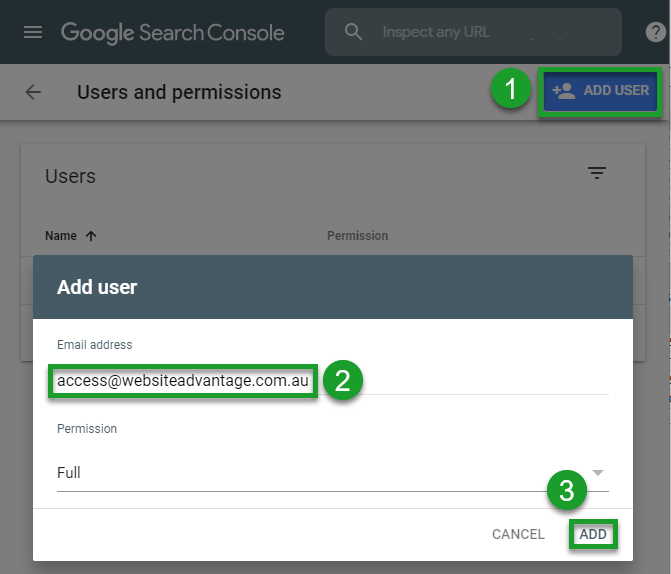 "Restricted" access will allow us to view the progress of your structured data
"Full" access will allow us to request indexing of pages & verification of resolved issues. This can speed up rich snippets appearing
What Does My Structured Data Look Like?
If you want to inspect all structured data on the page then we recommend pasting Rendered HTML into Structured Data Testing Tool
Why Am I Still Seeing Warnings & Errors?
Our SEO Rich Snippets App does what it can to provide Google the information it needs to display Rich Snippets but sometimes the information just isn't available. Below are some common errors & warnings that can occur – if you see one that's not here – contact us to have it added.
Error: Either "offers", "review", or "aggregateRating" should be specified
Usually because there is no price or reviews for this product. This error may affect Rich Snippets
Warning: Missing field "sku" (optional)
Your product likely either has the "Product code/SKU" blank or your Store setting "Show Product's SKU" is disabled. It's an optional field & won't affect Rich Snippets
Warning: Missing field "priceValidUntil"
BigCommerce's pricing structure doesn't cater for this. It's an optional field & won't affect Rich Snippets unless a past date is provided. We provide an "Advanced" Product Setting, "Price Valid Until" that you can enter a date if you want to remove the warnings (not recommended)
Warning: Missing field "review" & Warning: Missing field "aggregateRating"
Your product doesn't have any reviews. It's an optional field & until you obtain product reviews you won't see review stars. This won't affect other Rich Snippets such as Breadcrumbs, Price & Availability
Warning: Missing product ID
None of the BigCommerce "Product Identifiers" were set (gtin, mpn). It's an optional field & won't affect Rich Snippets but may have some effect if using the Structured Data for your Google Merchant feed
Warning: Missing field "brand"
Your product likely doesn't have a brand associated with it and our Product Setting, "Default Brand" is not configured
Warning: Missing field "image"
It's likely you don't have an image set yet for your product
How Do I Access My Invoice?
Emailed receipts are sent monthly to you after payment is made. If you click "View it in your browser" it will give you the option to download the invoice: