BigCommerce Google Ads Conversion Tracking
Tag Rocket ensures that your purchase conversions are tracked correctly with the correct revenue associated. It can also track other types of conversions such as Newsletter Subscriptions or Contact Form Submissions.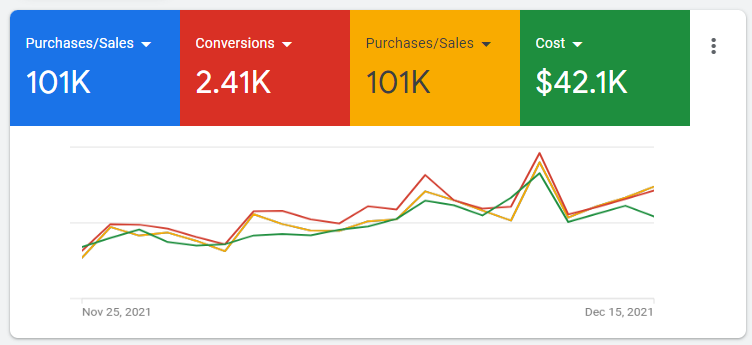 Dynamic Remarketing Done Right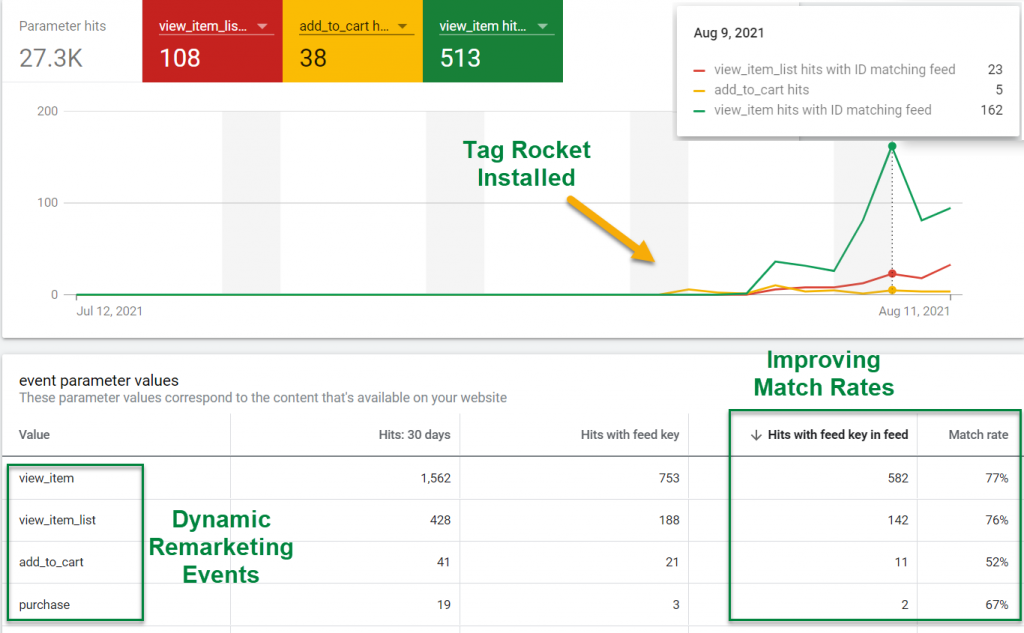 Tag Rocket provides all available events and parameters to optimize your Dynamic Remarketing. Help Google display the right ads, in front of the right customers, at the right time.
view_item
view_item_list
view_search_results
add_to_cart
purchase
For further information on Dynamic Remarketing, watch our video or explore Google's documentation.
Well-Fed Smart Shopping Campaigns
Google's machine-learning algorithms require the best possible data to provide you with the best possible Return On Ad Spend (ROAS). Leveraging BigCommerce-specific technologies, Tag Rocket extracts more data than generic tagging systems to optimize your smart shopping campaigns.
Build Better Remarketing Lists
Tag Rockets send more than just the basic pageview event data so you can build custom audience lists. If you need to track something out of the ordinary – contact us to see how we can help!
page_type
customer_group_name
customer_group_id
currency_code
Qualify for Google Beta Reports - Reporting Conversions with Order Basket (Cart) Data
Along with Purchase Conversion tracking, you can now send cart data to qualify for some Google reports (currently in Beta). These provide further details on items purchased, a clearer picture of revenue from Shopping Ads and fine-grained reporting of cart size and order value.
Additional Features
Contact Form conversion event tracking
Newsletter Subscription conversion event tracking
Call conversion event tracking
Ability to disable the collection of personalised advertising data
Ability to enable restricted data processing (California Consumer Privacy Act)
Honours user data preferences under the 'targeting' option when cookie consent tracking is on
Ability to disable first party cookies (conversion linker)
Getting Started
*Ensure you have disabled any existing tracking first, otherwise duplication errors may occur
Prerequisites
Google Merchant Center Feed Requirements
Tag Rocket sends event data to Google Ads to improve targeted advertising, it is important to ensure that the product information sent can be matched to the products in your Google Merchant Center Feed
Variant Products (Products with Options)
"id" – Ideally, the variant SKU but any unique identifier value will suffice
"item_group_id" – The BigCommerce Product Id or Product-level SKU*. Can be prefixed/suffixed with other characters eg "P_"
Non-Variant Products (Products without Options)
"id" & "item_group_id" – The BigCommerce Product Id or Product-level SKU*. Can be prefixed/suffixed with other characters eg "P_"
* As Product SKU is an optional field, if blank, the feed should revert to the BigCommerce Product ID
To access the feed, Click on Merchant Center->Feeds and click on each feed. Click the Download Feed link to download a text file, the contents of which can be pasted into Microsoft Excel, Google Sheets or similar.
Note 1: Tag Rocket defaults to using BigCommerce's Product ID but this can be changed using the Item Group ID Setting
Note 2: Please read our BigCommerce Product Feeds Article for a more detailed exploration of feeds & product identifiers
Google Ads Purchase Conversion
To improve the accuracy of dynamic remarketing campaigns and reporting through Google Ads, it is important to track the revenue that is caused by ad clicks. This is done by creating a purchase conversion.
Click on Google Ads->Tools->Conversions
To ensure correct purchase tracking, you must have only a single conversion with a "Category"= "Purchase" and "Include in 'Conversions'"="Yes". If one exists, then you can use it, or else create one. You may have other conversions, but only 1 purchase goal that is included in conversions. You may tailor some of the other conversion settings to suit your preferences – Below is an example of what we commonly configure. Once created/configured, then select the Tag Manager tab and copy the conversion label into the "Purchase Conversion Label" field of Tag Rocket's Google Ads Settings.
Contact Form & Newsletter Subscription Conversions
We recommend adding 2 more conversions for Contact Form submissions and Newsletter Subscriptions if not already created. Below are the settings we commonly use for each. Once created, their conversion labels should be added to Tag Rocket's respective Contact Form and Newsletter Subscription Conversion Label fields.
Test Tools
Google Tag Assistant
Google Tag Assistant allows you to explore the data for your Google Tags. By clicking on an event you can discover detailed information about the data sent.